While it's easy to count down to Gin O'clock, pour your favourite G&T and savour the refreshing burst of botanicals – how about creating your own gin fusion, and bringing other flavours to the fore?
We're all agreed it's best to leave the ins and outs of gin making itself to the experts, but there's no reason why you can't tinker around with the floral notes of lavender and baskets of fresh, seasonal fruit to gussy up your gin.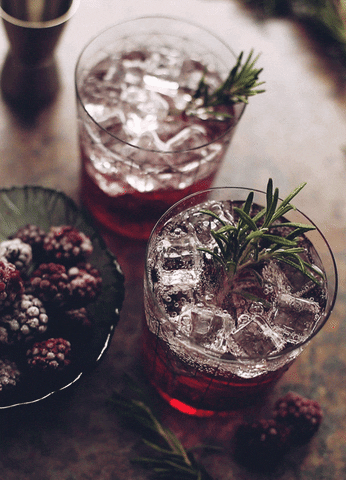 To begin our gin journey, you'll need a bottle of quality, London-dry style gin that's not too complicated, so you can be the master distiller and shape the flavour profile – think citrus, herbal, spicy and floral.
And the great news is, apart from slicing, dicing and steeping in caster sugar (depending on the recipe), the only other item you need for your gin kit is a Kilner jar or sealable bottle that's washed, sterilised and dried…
1. Rhubarb and ginger gin
With rhubarb season in full swing, washing and trimming stalks for this sweet, fruity infusion (with a gentle kick of spice) has lots of scope to satisfy, depending on how long it's left to infuse. The stronger the flavour and colour, the longer the steeping – three to four weeks is ideal.
2. Strawberry or raspberry gin
Take a punnet of strawberries or bag of freeze dried whole raspberries, and their deliciously sweet flavour will create the prettiest pink gin within two weeks. And you can always pimp it up with The London Essence Co.'s Pomelo and Pink Pepper tonic for some extra zing.
3. Seville Orange Gin
There's more to Seville oranges than marmalade. Even though they have a short season,  it's easy to create your own orange gin with frozen Seville oranges – just remember to hold one back, so you can garnish the glass with an orange wedge or some peel strips.
4. Lavender gin
Thanks to the availability of dried lavender flowers, armchair travellers don't need to stroll among lavender hills to drink in a Provençal lifestyle – simply infuse your gin with scented lavender and it can be yours within two to four days.
5. Cucumber gin
Deliciously refreshing, it only takes five minutes to infuse your gin with three or four small cucumbers (peeled, sliced, diced and deseeded), and within a week you'll be rewarded with the cool, fresh scent and taste of cucumber infused gin.
6. Lemon gin
A gin with real verve, nothing beats the refreshing, zingy taste of lemon gin. The knack here is to avoid the bitter pith when you peel in the lemon rind, and within five days you can top with tonic and garnish with a slice.
7. Pineapple and coconut gin
If you fancy a taste of the tropics, you can use tinned pineapple chunks and coconut flakes to imbibe thoughts of swaying palm trees and a G&T at the shallow end of the pool.
You may also be interested in…