You may be used to drizzling it over your breakfast, but did you know the extent of honey's healing properties?
Scientists have newly developed a way to put tiny amounts of Manuka honey between layers of surgical mesh used during operations, to help protect the body from infection. The research was conducted by scientists at the universities of Ulster and Newcastle, drawing upon ancient wisdom around honey's bacteria-fighting properties.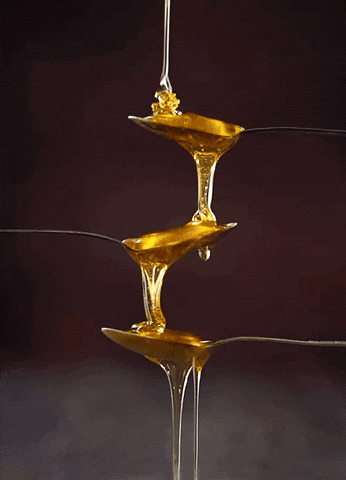 Manuka is a more expensive honey produced largely by bees in New Zealand, but pure honey of all varieties has a surprising amount of benefits, and for your entire body too…
It's the perfect remedy for a sore throat
When you've got a sore throat, your first response might be to reach for throat sweets. However, you could do better opting for some honey first. In 2018 the National Institute for Health and Care Excellence (NICE) and Public Health England (PHE) said that honey and certain cough medicines can help relieve the uncomfortable symptoms of a sore throat, and only if your cough persists should you seek antibiotics.
Children under the age of one shouldn't be administered honey, but for everyone else it can be incredibly soothing – particularly if drunk with hot water and lemon.
It can help suppress a cough
When flu season strikes, we all know there's nothing worse than being kept awake at night by a dry, tickly cough that simply won't go away.  Next time you're a victim of this infuriating health woe, try easing the aggravation with a spoonful of soothing honey.
A 2012 study published in the journal Pediatrics found children with upper respiratory tract infections experienced more cough relief after drinking 1.5 tablespoons of labiatae (it's an aromatic) honey 30 minutes before bedtime, than those that received a placebo. If nothing else, it'll be a delicious pre-slumber treat that'll satiate your sweet tooth.
It's full of antioxidants
Blueberries and kale are beloved for being full of antioxidants, but did you know honey is too? If you really wanted to boost your antioxidant levels, take the advice of this study and opt for darker honeys.
Antioxidant properties also mean honey can help reduce or prevent damage done to cells by free radicals (often caused by environmental factors like pollution and sunlight). This cell damage can contribute to causing various diseases, including cancer, diabetes and Parkinson's.
Honey is jam-packed with polyphenols; helpful antioxidants that have been linked to increased blood flow and preventing blood clots from forming. One study in rats even showed honey can protect the heart from oxidative stress, which can contribute to heart attacks and stroke, although more research needs to be done on the link between long-term human heart health and honey.
It's amazing for your skin
Beyond just eating it, the bacteria in raw honey can help reduce inflammation and redness when applied topically to your skin, making it particularly useful for acne-sufferers.
Its antibacterial and anti-inflammatory properties can calm and soothe irritated skin, as well as being loaded with enzymes and other nutrients that nourish and cleanse the surface –  some beauty bloggers even claim it's cleared up their acne. If it's a natural summer glow you're looking for, get slathering – honey is a natural humectant, meaning it hydrates the skin by drawing in moisture from the air.
You can make your own honey-based products at home – for instance by mixing honey, yoghurt and cinnamon for a face mask or mixing two tablespoons of raw or Manuka honey with one tablespoon of uncooked porridge oats for an exfoliating mask – but there are also plenty of suitable products if you don't fancy some DIY. Manuka Doctor is a particularly popular brand drawing on the power of honey for skincare, and the Nuxe Rêve de Miel lip balm is another good choice (£10.50, Nuxe).
It can heal wounds and burns
When applied topically, researchers believe honey can have a healing effect on painful burns and lesions. Applying honey to wounds has been a technique that's been around since ancient Egypt, and modern studies have found it can be effective. One study published in the Diabetes Research and Clinical Practice journal found a 43.4% success rate of using honey on diabetic foot ulcers, while another published in The Scientific World Journal found honey could also be an effective home remedy for reducing painful haemorrhoids.
It can treat dandruff
Suffering from a dry, itchy or flaky scalp? A 2001 study conducted by the Dubai Specialised Medical Center discovered that raw honey can be used to treat scaling, itching and hair loss. This is thought to be thanks to its anti-bacterial, anti-fungal and antioxidant properties.
Fancy giving it a go? Mix two tablespoons of vegetable oil with equal amounts of honey and apply it to your hair for a DIY hair mask. Leave it to sink in for 15 minutes, and then rinse it off before you shampoo.
It's a good alternative to sweeteners and added sugar
Honey is still high in sugar, however, it's a more natural alternative to the white stuff or high-fructose corn syrup. Sugar also has a higher glycaemic index than honey, meaning it raises blood glucose more quickly.
Of course, this doesn't mean you should overload on honey, but if it's an available option when it comes to sweetening up your porridge, why not consider it first?
It gives you an energy boost
Looking for a pre-workout snack that will fuel you through a sweaty HIIT session? Try adding a dollop of honey to your protein balls. As a carbohydrate made up of fructose and glucose, the sticky stuff makes for a high-powered, natural energy snack. Unlike refined sugar, it also contains small amounts of proteins and minerals such as B6, riboflavin and amino acids; compounds that help the body metabolise bad cholesterol and fatty acids.
While whizzing a spoonful into your smoothie won't do any long-term harm, it's important to remember to eat honey in moderation.  "It's a source of energy, but it's still sugar, so it should be eaten more as an indulgent treat rather than a substitute for more nutritionally-rich foods such as fruit and veg," says nutritionist Liz Tucker.
It can soothe your stomach
The antibacterial properties of honey which help fight infection have multiple benefits. Studies have shown that honey can help ease diarrhoea, and it's also said to help improve your gut microbial balance, potentially having prebiotic effects.