It's the most magical time of the year and the ultimate foodie holiday – and if Christmas for you is all about the chance to eat, drink and be merry, you'll be spoiled for choice. But where do you begin with the fanfare of flavours piled high on the festive table, not to mention all the tempting nibbles along the way?
To make entertaining family and friends that much easier this Christmas, we've made a list, checked it twice and totted it up with some easy-drinking quality wines – along with a few showstoppers to swoon over, and linger in the memory long after the last sip.
Of course, many of us have traditional Christmas Day menus that never change. But if you are looking to mix things up a little, we've suggested some ideal food pairings too.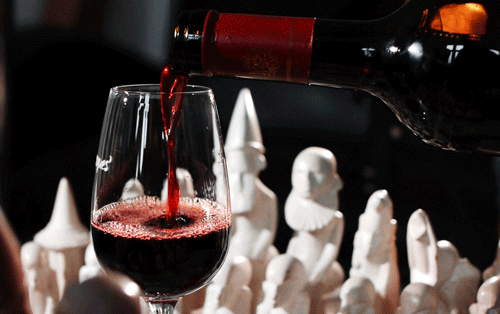 After all, Christmas comes but once a year…
1. Oxford Landing Sauvignon Blanc 2019, South Australia (£6, Sainsbury's)
A great workhorse white (light on its legs at 10.5% abv) for low-key celebrations, the zesty aromas of lemongrass, passion fruit and herbal notes aligned with its fruity freshness are impressive enough to run the full festive course – from Asian style nibbles and finger food, to glazed ham on Boxing Day.
2. SPAR South African Reserve Chenin Blanc 2017, South Africa (£6.50, SPAR stores)
A little nugget and quite SPAR-tacular for the price tag, this International Wine & Spirit Awards 2019 gold medal-winner is full of ripe peach and pear flavours, with a smooth silky texture, refreshing snap and well balanced acidity. Food-friendly and versatile, pair with creamy chicken dishes, turkey and cranberry sauce or smoked salmon terrine.
3. Vandenberg Adelaide Hills Chardonnay 2018, Australia (£11, selected Co-op stores)
Flowing with yuletide cheer, we love this pleasantly oaked chardonnay with pear and citrus aromas and flavours, creamy texture, fresh acidity and some subtle spice on the lingering finish. A stunner with roast chicken and bread sauce, otherwise monkfish or turbot with a buttery sauce.
4. Split Rock Sauvignon Blanc 2019, Nelson, New Zealand (£12.99, Laithwaite's)
If you want a wine for a vegetarian option, Thai fish cakes or any shellfish with a tangy, citrusy sauce, this perfectly judged savvy blanc is a little cracker. Crisp and fresh with classic gooseberry, lime and just a trace of grass, it will wash down beautifully with goat's cheese too.
5. William Fèvre Chablis Premier Cru Vaillons 2017, France (£25.99, Ocado)
A notch up the scale, this Burgundy blonde has a wonderful purity and elegance and showcases pear drops and florals on the nose, leading to pristine pear and stone fruits, with a delicate minerality and lovely clean finish. A winner with seared scallops, trout pate or a spoonful or two of exquisite caviar – if you're lucky enough to be planning a lavish lunch.
6. Fairtrade Monteflores Reserve Malbec 2018, Mendoza, Argentina (reduced to £8 from £10 until Jan 2, Marks & Spencer stores)
A real crowd-pleaser, this velvety smooth malbec works wonders with festive Beef Wellington, with its plump berry fruits and toasty aromas, ripe black cherry and plum fruit, plus velvety smooth tannins and touch of oak spice to add interest. It had plenty of concentration and depth to prop up the cheese board too.
7. Tesco Finest Rioja Gran Reserva 2012, Spain (£11.50, Tesco)
As the clock counts down to the main event, this full-bodied, beautiful beast of a Rioja ticks all the right boxes with a big, bronzed bird. A tempranillo temptress that brings complex aromas of dense dark fruits, vanilla, spice and tobacco leaf to the table, it's loaded with blackcurrant fruit and will stand up to all the scrumptious, crispy bits such as stuffing and sides.
8. Domaine des Tourelles, Cuvée Pierre Brun 2016, Lebanon (£12.99 or £10.99 Mix Six, Majestic)
A delectable discovery for adventurous wine lovers, this opulent blend of cabernet sauvignon, syrah, cinsault and carignan is impeccably smooth and boasts alluring aromas of morello cherry and sweet spices, with a deep, blackcurrant richness entwined with layers of earthy spice to keep you coming back for more. A glorious glass with roast leg of lamb, or spiced chicken with stuffed vine leaves if you want to venture off the beaten festive path.
9. Wolf Blass Gold Label Coonawarra Cabernet Sauvignon 2016, Australia (£16, Morrisons)
Vine dining Down Under, Wolf Blass is recognised for its quality and consistency, and their Gold Label king of the reds is a perfect match with filet or rib-eye steak. Smooth and elegant, with juicy blackcurrant and mulberry supported by some hallmark cassis and mint, you can't go wrong with this beloved food and wine pairing.
10. Châteauneuf-du-Pape Cuvee 13, 2016, France (£16.99, Aldi)
An Aldi A-lister and part of their Classic Icon range of premium wines from famous regions around the world, this Southern Rhône red punches above its weight and offers a perfect parcel from a great vintage. Its richly perfumed bouquet is complemented by lush berry fruits, sweet spice, dried herbs and a silky, energetic finish. Sip and savour with anything you fancy.